Peace & Justice Pilgrimage 2022 (June 14 – 20)
Under the planning and leadership of Living Water Association council member Rev. Jason Thompson, the Peace and Justice Pilgrimage to Alabama this summer consisted of 25 pilgrims.
Some of the major stops of the pilgrimage included a memorial of the Mothers of Gynecology; the Rosa Parks Museum; Equal Justice Initiative's Legacy Museum and the Peace & Justice Memorial, both of which were in Montgomery; the Edmund Pettus Bridge in Selma; and Kelly Ingram Park and 16th Street Baptist Church in Birmingham.
The pilgrimage included clergy and laity from across the Association and the Heartland Conference. We encountered a number of challenges, the most difficult being having to deal with 5 pilgrims that contracted COVID. We learned a lot, as individuals, as a community, as a leadership team, and as organizational partners.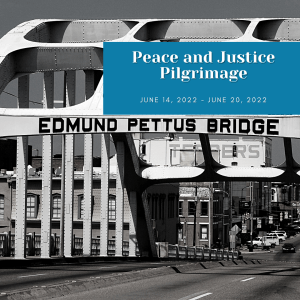 Check here after November 2 to see resources from the trip, including reflections from pilgrim participants.