ARN February Gathering
---
WED FEB 2, 2022
7 – 8:30 PM
Zoom (link)
This event has ended.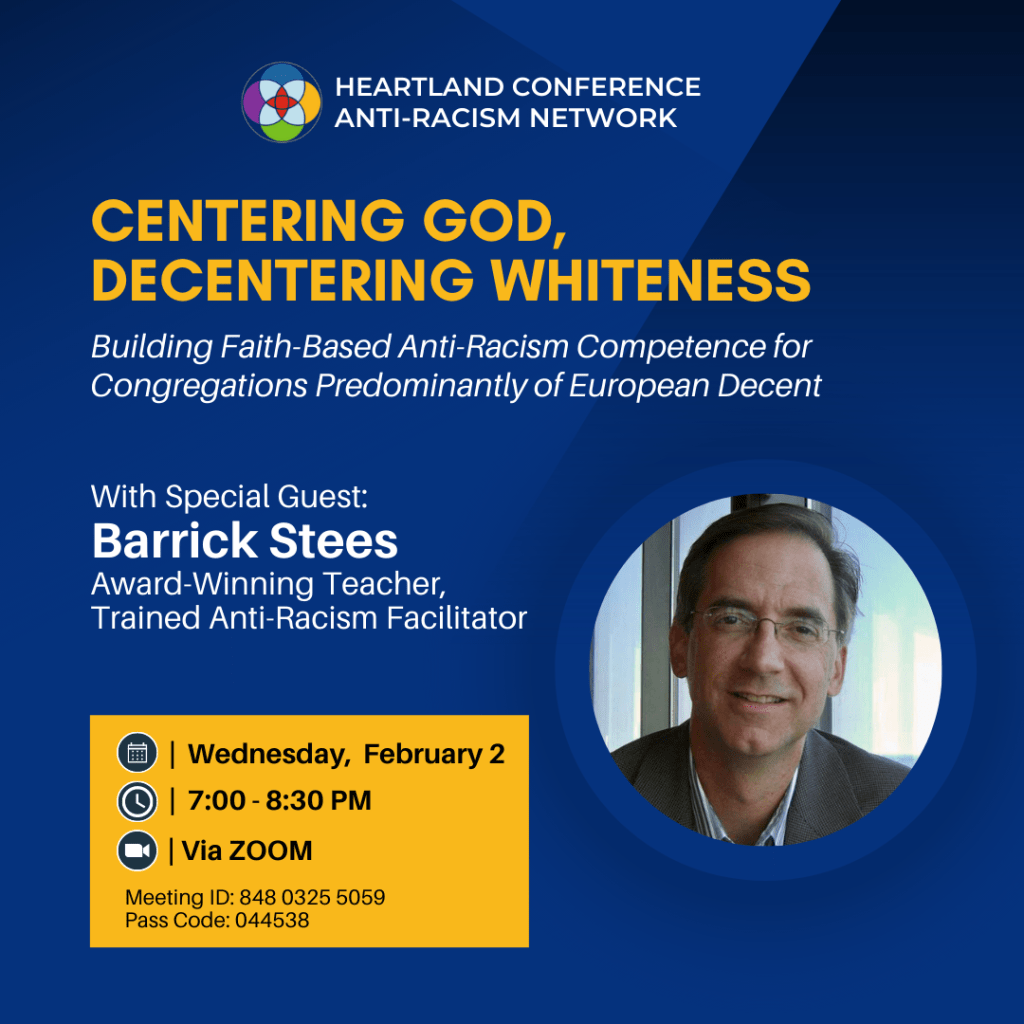 Heartland Conference Anti-Racism Feb 2 Gathering
This event has ended. You will find follow-up resources from the event below.

Supporting Document
As part of our February gathering, Barrick Stees presented an outline of the anti-resource he has created and is facilitating with groups across the country. He offered this outline for us to share with those who are interested: Centering God, Decentering Whiteness: Curriculum Outline.
Resources Mentioned

In his presentation, Barrick Stees mentioned the following resource(s). They are included here for your engagement.
Event Details
Wednesday, February 2 at 7 PM, we will have the privilege of hearing from one of our own, Barry Stees. Barry will share with us about the fantastic resource he has created, Centering God, Decentering Whiteness: Building Faith-Based Anti-Racism Competence for Congregations Predominantly of European Decent.
***IMPORTANT: While everyone is welcome to attend, it is important to note that the resource Barry Stees will be presenting is intentional about targeting congregations predominantly of European descent (a.k.a. majority white congregations).***
Barry is a member of the Federated Church in Chagrin Falls, OH, and a leader of the Federated's Social Justice Advocacy Ministry. He is a certified trained facilitator in the UCC's Sacred Conversations to End Racism, and he facilitates engaging and challenging discussions on Restorative Racial Justice with many groups.
Please see the attached flyer, and please share it broadly.
Who: Heartland ConferenceAnti-Racism Network
What: Centering God, Decentering Whiteness: Building Faith-Based Anti-Racism Competence for Congregations Predominantly of European Decent
When: Tonight – Wednesday, February 2 from 7 to 8:30 PM